ShipperGuide offers a benchmarking feature to compare carriers' proposals with the live market, short-term contracts, and target rates to help determine the fairest pricing for your transportation needs in a competitive market.
To view benchmark rates:
1. On your left dashboard, click RFP Guide.
2. On your bid status dashboard, navigate to bids and click on the RFP.
3. Click a lane to expand the Routing Guide panel.

Under Benchmark, your Target Rate, Live Market Rate, Short-Term Contract, and benchmark scale will be displayed.
The Live Market Rate and Short-Term Contract rates match the fuel type on the RFP for benchmark rates to accurately compare with carriers' proposals.
Click Show More to expand the section:
Click Edit to update your Target Rate.
Click Update to refresh the Live Market Rate.
Click Update to refresh the Short-Term Contract Rate.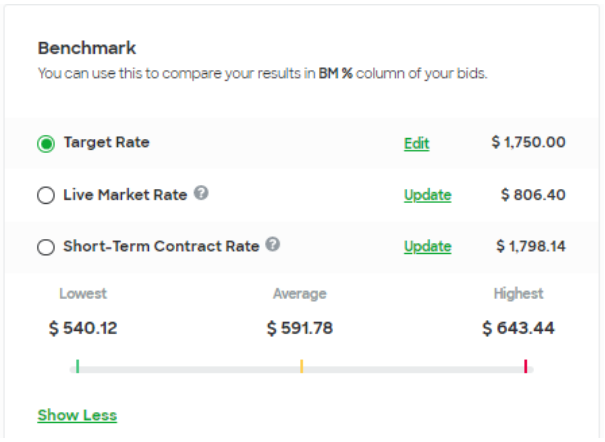 Important: The live market and short-term contract only support US lanes.