RFP is a request for a proposal. A shipper would send a request outlining their requirements for upcoming logistics plans to solicit bids from selected carriers. You can create proposals, invite carriers, compare bids, and award lanes. ShipperGuide helps reduce the lengthy process of preparing and finalizing a bid. This article will cover how to set bid details for an RFP.
To begin creating a bid:
2. On your left dashboard, click RFP Guide.
3. Click

Setting Bid Details:
1. Enter the RFP Title.
2. Select the Mode:
FTL - Full Truckload
LTL - Less than Truckload
IMDL - Intermodal
DRAY - Drayage

Equipment size will be required when creating lanes for drayage RFP.

3. Select the fuel surcharge type and volume frequency.

4. Select the contract dates.
If the contract dates are not specified, it will default to the first weekday after today as the start date and the following day as the end date.

5. Select the Currency. Please enter the conversion rate if any currency type other than USD is selected.
6. Select the Bid Type:

7. Select Accessorials.
Prior to selecting your accessorials, you will need to add the accessorial types from your Settings > Procurement.

8. Select the bid deadline date and time for your carriers to respond.
If the deadline date is not specified, it will default as today at 05:00 PM. The bid deadline date must be equal to or greater than today.
9. Select the award deadline for your carriers to respond to awards.
The award deadline will be disabled for Spot Quote RFPs, as carriers' awards will be auto-accepted. Also, it will be disabled for bid type RFPs Rates on File (Rank) as carriers will not need to respond to awards.
For all other RFPs, if the deadline is not selected, it will default as 3 days after the award.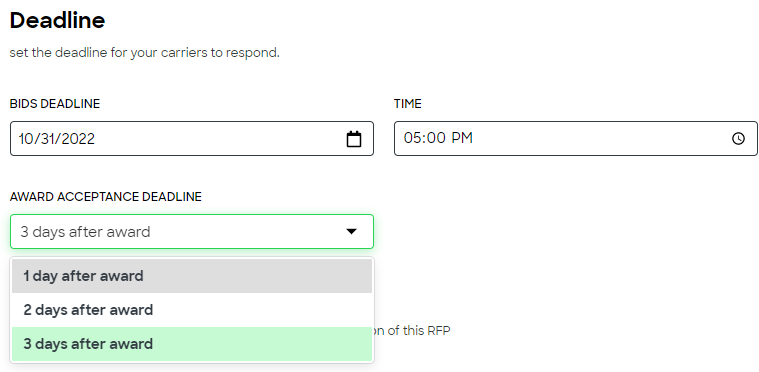 10. Optional: Add your contact information to share with carriers on the invitation email and carrier's bid page. Click
to save your contact information for all future bids.

11. Optional: Upload up to 3 documents the carrier may need for the bid.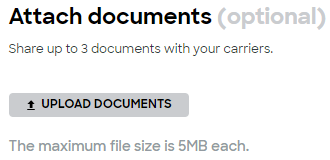 12. Click

The bid will now be accessible on the

page of your bid status dashboard.
Related Articles: