The Carrier Management page allows you to add/update/delete carriers, view analytics on their performance on past bids, and create groups by your preference to help better manage your operations and streamline your carrier selection process. If you would like to add or update your carriers in bulk via import, please see the following article: How do I bulk add/update my carriers?
This article will cover:
To add a carrier:
1. On your left dashboard, click Carriers.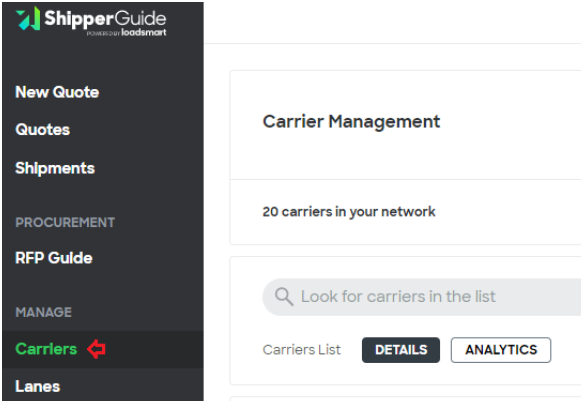 2. On the Carrier Management page, click ADD CARRIERS > Add a Carrier.

3. A side panel will appear on the page, search and select a carrier from the database. The carrier's details will be auto-filled from the database.
Or you can manually enter the carrier's information:
Required: Carrier Name
Required: DOT (Department of Transportation number)
Optional: MC Number (Motor Carrier number)
Optional: SCAC ( Standard Carrier Alpha Code)
Optional: Type (Broker or Asset)
Required: Email (Primary contact that will be receiving bid emails)
Optional: Cargo Insurance
Optional: BIPD Insurance (Bodily Injury and Property Damage insurance)
Optional: Region of Operation
Optional: Equipment
Optional: Phone Number
Optional: HQ Address
Optional: Safety Requirements
Optional: Notes
Optional: Tags
4. Click

to save the carrier to your network.
Click on the carrier to view/update the carrier's information. Make sure to click
to save updates.
To delete a carrier:
1. Click the checkbox next to the carrier's names.
2. Click

3. A pop-up window will appear to confirm if you want to delete the carrier. Click

to delete the carrier from your carrier network.