How to Set Dock Operating Hours
You may set the dock operation hours when creating the dock or when editing it.
The steps to edit the dock hours are below:
Go to the Warehouse tab


Select the Warehouse by clicking the edit icon on the right


On the top, select 'Docks'


Select the dock by clicking the pencil icon on the right


Set the hours that the dock is available to accept appointments. You may clone the schedule from the warehouse's operating hours or from a dock.
Note: the interval (15/20/30) you choose will not reflect on the start times. To set a start time, check this article. The intervals provide only a more granular view of the schedule.


You may create a specific schedule for the dock or copy the warehouse's operating hours. The dock's open hours must be within the warehouse's hours of operation. Users will not be able to schedule appointments outside of warehouse hours.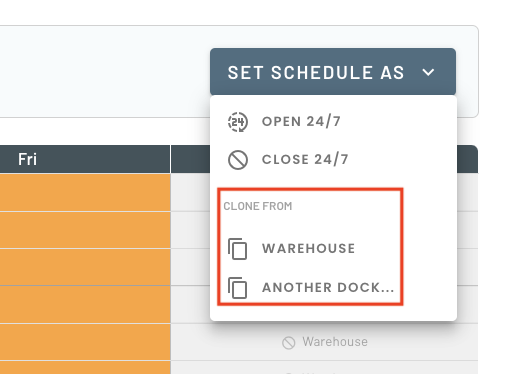 Note: Filling in the square tiles with ORANGE means the dock is available; WHITE tiles mean the dock is closed


Click 'Save Dock' at the bottom