ShipperGuide now offers instant rates for intermodal to quote and book shipments on the platform's New Quote feature!
Important: Please enter your company's Billing Information before creating a quote. Details on how to do so can be found here.
This article will cover:
Create an IMDL quote

:
1. On your left dashboard, click New Quote.
2. On the New Quote page, change the mode to IMDL.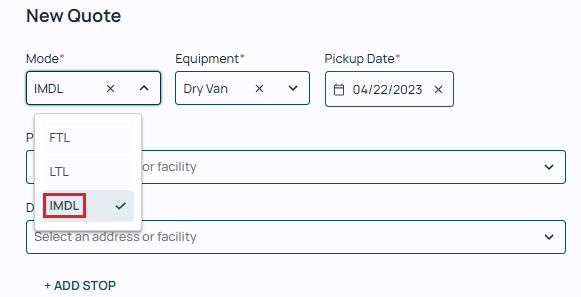 3. Select and enter the quote details:
Required: Equipment - default as Dry Van
Required: Pickup Date - default as three days from today if the pickup date is not selected
Required: Pickup address or facility
Required: Delivery address or facility
Optional: Click + ADD STOP to add up two additional stops between the pickup and delivery
4. Click

5. A quote ID will generate. Rates with various pickup dates will return for the IMDL quote. Select the rate and pickup date you would like to book the quote and click

to direct to the Checkout page.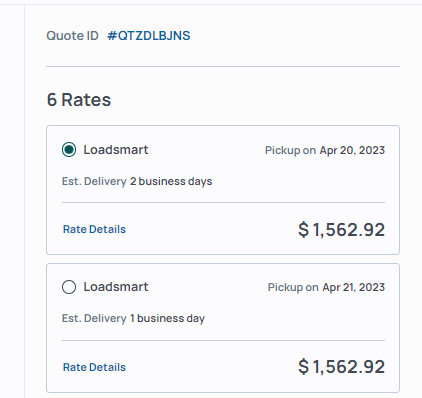 ShipperGuide will automatically notify Loadsmart's Brokerage if the quote isn't eligible for an instant rate. In that case, our specialists will manually find you the best rate. You will be notified via email as soon as a rate is found. On average, this process takes between 15-60 minutes.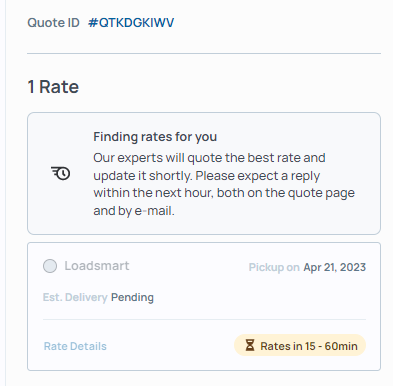 Checkout

:
1. On the Checkout page, select a payment method.
Line of Credit
Credit Card
2. Click

to book the IMDL shipment.