The lane proposal template allows carriers to upload multiple bids at once. This system feature helps carriers reduce the time spent adding individual proposals for a bid that contains several lanes.
You must fill out the lane proposals import file with the proposed rates and capacity. This article provides instructions on downloading the Lane Proposals Template file, formatting cells, and uploading the file to the bid page.
Download the proposal template file:
A login is not required to view RFPs from ShipperGuide shippers.
You can access the RFP directly from the bid invitation email by clicking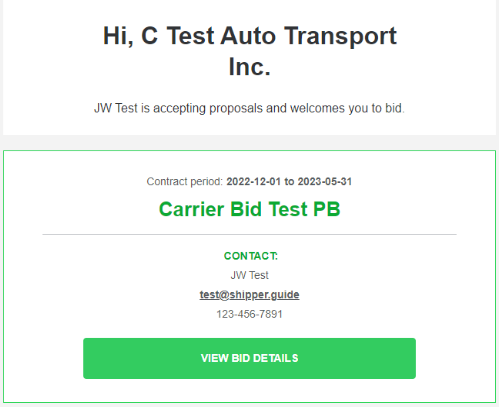 Or you can view the RFP directly from your Loadsmart account:
1. On your Loadsmart account, go to CONTRACTS > SHIPPER RFPS

2. You will be directed to the RFP page. Filter the RFPs list to

Click

to view the RFP.

On the RFP page, click
> select Download Template
The .csv file will be downloaded and saved to your computer. The filename will begin with "lane_proposals_for_".

Enter proposed rate/capacity:
1. Open the Lane Proposals Template file. Please do not change column headers and the values in the lane details cells.
2. On the last two columns of the file:
Enter the Proposed Rate - flat rate or per mile rate
Enter the Proposed Capacity

Lanes without rates will not be considered for the bid.
Upload proposals file:
1. It is important to save the template as a .CSV file. You will receive an error message and will not be able to upload the template otherwise.
2. Go back to the bid page, click

> Upload Prices

3. A pop-up window will appear. Drag and drop the file to the pop-up window.
Select the proposed rate type - flat rate or rate per mile. The system will automatically calculate the flat rate or rate per mile if either rate type is selected.
4. Click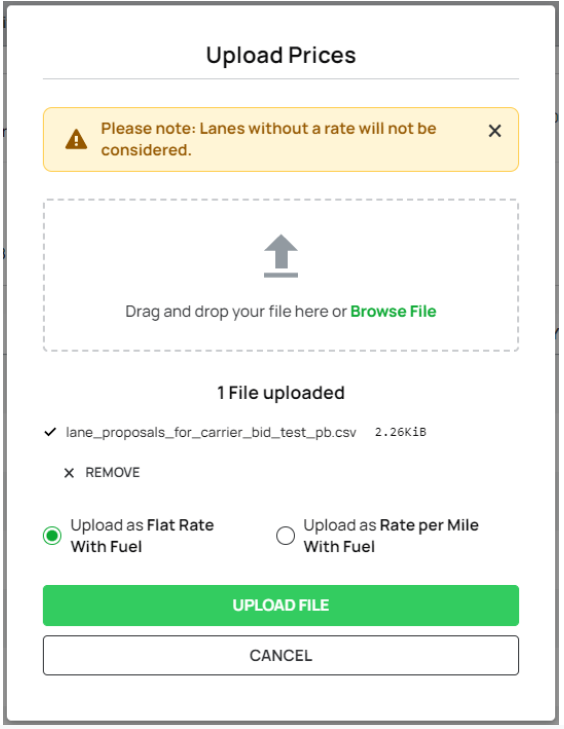 5. If you are ready to submit your proposal, click

. Or you can click the checkbox

next to Auto-submit to automatically submit the proposal when the bid deadline ends.

Proposals that are not submitted will not be considered for bidding. Please make sure to click SUBMIT or AUTO-SUBMIT.
To withdraw/update your offer, click

to reopen the bid page. You can only submit/withdraw your bid if the RFP is open and the bid deadline has not passed.