After a shipper has finalized the bid, carriers will be notified via email if they were awarded or not awarded lanes. This article will cover how to accept or reject awarded RFP lanes (not including spot quote RFPs) for primary/backup carriers.
View awarded lanes:
A login is not required to view awarded RFP lanes from ShipperGuide shippers.
You can access the awarded lanes directly from the award email by clicking

Or you can view the RFP directly from your Loadsmart account:
1. On your Loadsmart account, go to CONTRACTS > SHIPPER RFPS

2. You will be directed to the RFP page. The finalized RFP will list under

. Click

to view the award confirmation page.

Accept or reject an awarded lane:
1. On the award confirmation page, all lanes pending an award response will be listed under PENDING AWARDS.
Click to accept the award or click to reject the award for each lane. Or, to select/reject all lanes, click on the checkbox next to Origin and click ACCEPT/REJECT to accept or reject all awarded lanes.
Once you have provided your response for the lanes, the lanes will be moved to the ACCEPTED AWARDS or REJECTED AWARDS section.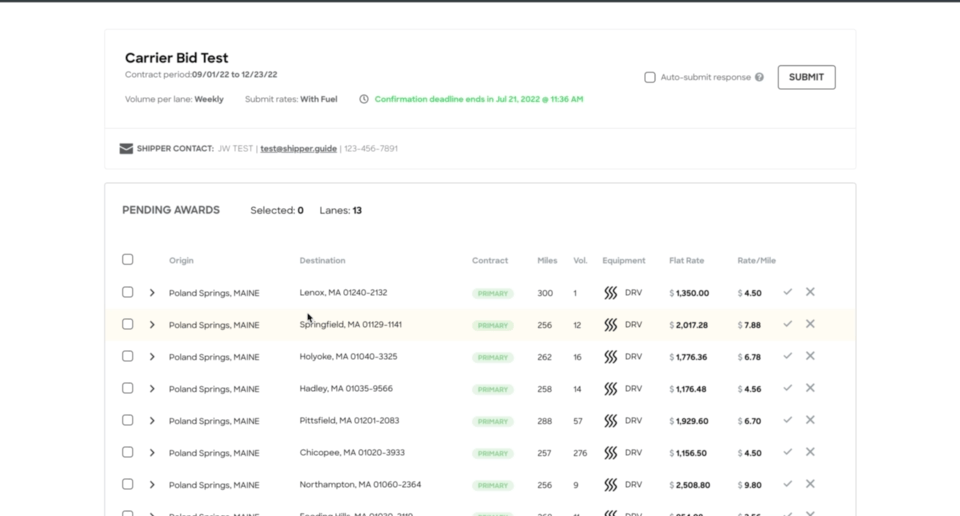 To change your response, click the checkbox next to the award and click UNDO. The lane will be moved back to the PENDING AWARDS section.

2. Click SUBMIT or click the checkbox next to Auto-submit response which will automatically submit your response once the award deadline ends.

Your award response will be sent directly to the shipper. Please contact the shipper if you have questions regarding the award/bid.