Quote and book LTL shipments instantly with the New Quote feature in ShipperGuide! ShipperGuide offers automatic quotes for less than truckload shipments with shipment options to quote and book LTL, Volume LTL, and Loadsmart PTL.
Important: Please enter your company's Billing Information before creating a quote. Details on how to do so can be found here.
This article will cover:
Create an LTL quote:
1. On your left dashboard, click New Quote.
2. On the New Quote page, change the mode to LTL.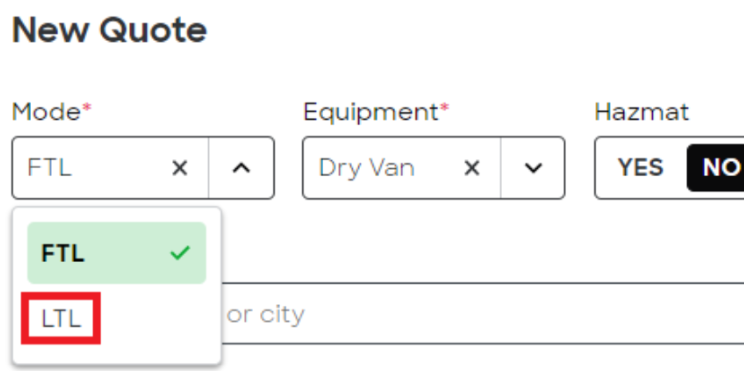 3. Select and enter the quote details:
Required: Pickup Date -default as one day from today if a pickup date is not selected. The estimated delivery date will be automatically calculated.
Required: Pickup address, zip code, or facility

Required: Delivery address, zip code, or facility
Optional: Pickup/Delivery Accessorials
Optional: Excessive Length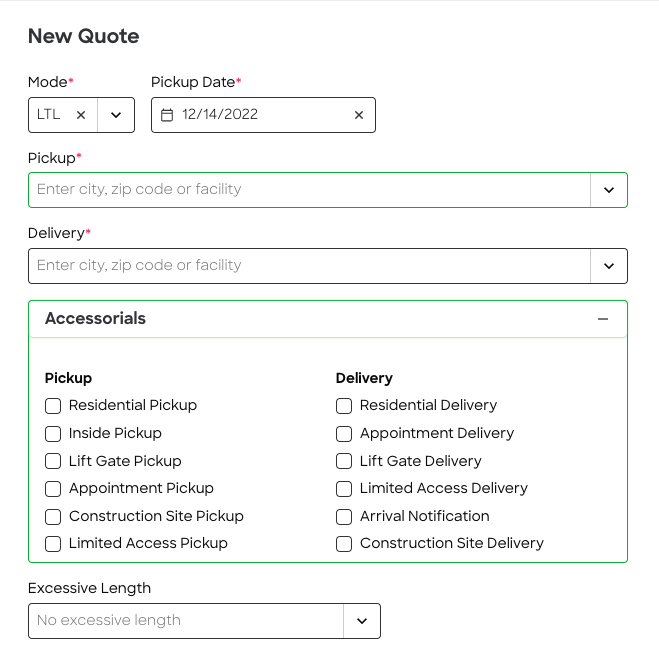 4. Select and enter the Shipping Items details:
Optional: NMFC Code
Required: Freight Class - click to search the commodity you are shipping and click to add the NMFC and Class details. This feature will list possible NMFC and Class to fit your shipping item.

Required: Commodity Name
Required: Package Type
Required: Quantity
Required: Total Weight
Required: Length, Width, and Height - in inches
Required: Density - the density is automatically calculated once the length, width, and height parameters are entered.
Optional: Hazmat - if the item is hazardous, enter the hazmat class (required) and UN number (required).
Optional: Stackable
Click + Add Item to add additional items.
5. Click

6. A quote ID will be generated, and rates will be returned for the LTL quote. Select the carrier rate and click

LTL quoted rates expire after 24 hours.
LTL delivery dates are estimated with the pickup date plus the transit time provided by the LTL carrier. The estimated delivery date does not include weekends or holidays
Checkout
1. Under Freight Information, enter the following:
Optional: Reference Number
Optional: PO Numbers - separate with commas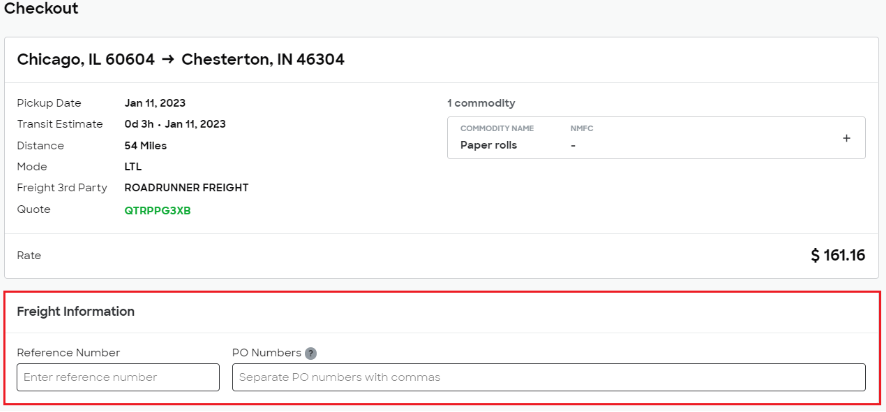 2. Select/add the pickup and delivery facilities.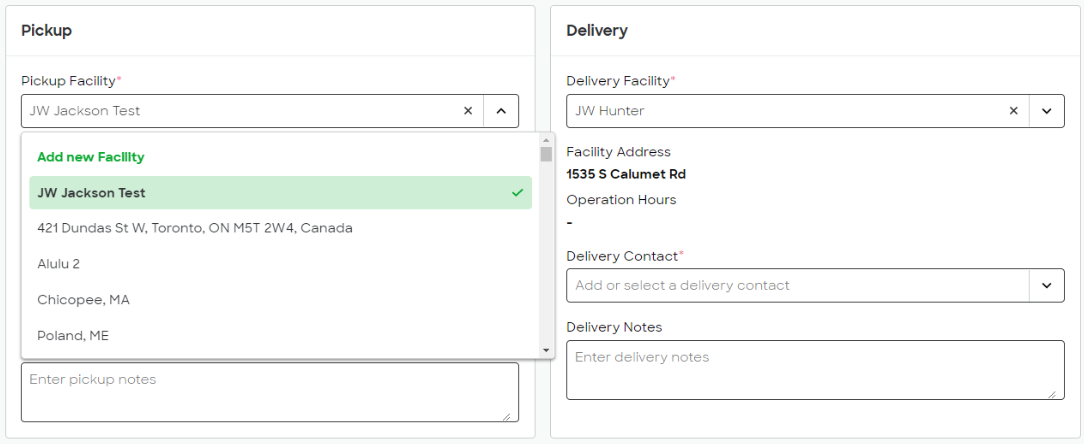 3. Select/add the pickup and delivery contacts.

4. Enter pickup and delivery notes.

5. Select/add a payment.

6. Click

to book the shipment with the LTL carrier.